H. P. Lovecraft &
the Great Altar Stones of New England

(Sanders Grove Monograph #1 (2016)
Examining the great table slabs to see if any could have been inspiration in the creation of "The Dunwich Horror."

"August Derleth in Amateur Journalism"
August Derleth Society Newsletter. (vol. 37, no. 2, 2016)
The Fossil (vol. 112, no. 3, July 2016)
[review of Cthulhu Lies Dreaming]
Dark Discoveries no.35 (Summer 2016).
"Lovecraft and the Whittiers"
The Fossil, July 2015

[review of Letters to Robert Bloch and Others]
Dark Discoveries no.33 (Autumn 2015).

[review of The Starry Wisdom Library]
Dark Discoveries no.30 (Winter 2015).
[review of Sex and the Cthulhu Mythos]
Dark Discoveries no.30 (Winter 2015).
"A Visit to Haverhill w Tryout Smith"
The Fossil, July 2014

"Amateur Journalism's Haverhill Run"
Wavelengths - the Newsletter of "the Wave," WHAV, January 2014
Tryout Smith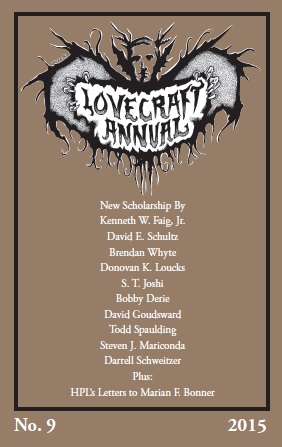 "Cassie Symmes - Inadvertent Lovecraftian"
Lovecraft Annual
#9, (2015)

Frank Belknap Long's maternal aunt, Cassie M. (Doty) Symmes is best recalled as writing a travelogue with a foreword by Long that was actually ghost-written by Lovecraft. But her life is a fascinating look life outside the Circle.
FICTION
"Little Maiden of the Sea" (short story as David Bernard)
Twice Upon an Apocalypse (Crystal Lake Publishing, 2017)
Hans Christian Andersen meets Lovecraft in a Little Mermaid /Dunwich/Innsmouth mash up.